---
Aine Carvill shows
---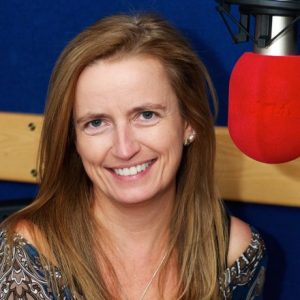 I joined Spirit Radio in November 2010. It was my first job in Radio. I was part of the sales and marketing team, but it didn't take me long to find my way onto the airwaves as the love of radio developed and now, I present weekdays on Spirit Radio.
I come from a little village in County Down on the shores of Carlingford Lough called Rostrevor, home of CS Lewis at one time and in fact our local park has a Narnia experience for little and big kiddies. (That's my bit for local tourism! 😊)
You'll often hear me reference my trusty companion, Mr Tufty, an adorable cockapoo who has been with me for just over a year now.
Fun facts
I played Sandy in GREASE at Reps cabaret when I worked in GREECE.
5 years ago I completed my one and only triathlon; it took me 2 weeks to recover after swallowing gallons of river water and catching the flu.
In Cape Town, South Africa, I had the unbelievable good fortune to meet and hand Bruce Springsteen my Masters thesis exploring the spiritual meaning and mystery in his songs.
Favourite Bible Verse
Micah 6:8
'Do Justice, Love Mercy, and Walk Humbly with Your God'
If we can live out this Micah verse well, we won't be doing so bad.
Favourite Spirit Radio Song
Chris Rice – The Other Side of the Radio
I love this not only because it was the first song we played on air when we launched on January 27th 2011 but also because it perfectly sums up the synchronicity in the relationship between the presenter and the listener.
---