Godfrey Chimbganda / Presenter
---
Godfrey Chimbganda shows
---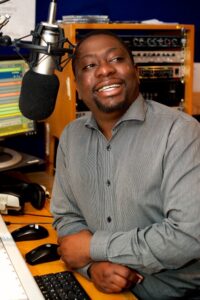 Godfrey moved to Ireland in 2002 and has been involved on the music scene since 2003. Between 2004 – 2007 he was a presenter on pirate radio stations in Wicklow & Dublin. He has promoted and worked with artists like Kirk Franklin, Israel Houghton, George Hamilton IV, Stevie Wonder & Andrae Crouch. He is a Practising Financial Advisor, Serial Entrepreneur, Artistic Director, youth advocate and music executive. He is the co- founder of Gospel Music Ireland.
As a community activist in Dublin he currently sits on the Dublin City Integration Forum Executive, the Dublin City Community Forum Executive and the Dublin Local Community Development Committee.
He is currently a presenter of Sounds of Praise – an Urban Gospel & Gospel House Show on Saturday from 8-10pm on Spirit Radio.
---