---
Godfrey C shows
---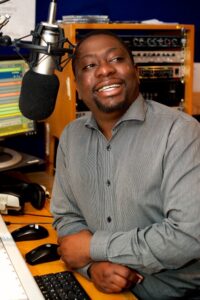 I joined Spirit Radio in 2010. I have a passion for Gospel Music that has led me to promote and support a lot of work and artists in Ireland and abroad. My most humbling moment is the Andrae Crouch tour in Europe which was his last after 30 years. On Spirit Radio I present 'Sounds of Praise' an Urban Gospel Show on Saturday evenings that explores the music, stories and events happening in the Gospel Music World.
Fun facts
I was one of the Dublin City Local Heroes in 2018.
I put together a choir to sing with Stevie Wonder that included members of 5 Gospel Choirs and of course I joined the group to sing with Stevie.
Favourite Bible Verse
Galatians 6:9
Don't get weary of doing good for in due season you will reap if you don't give up.
Favourite Spirit Radio Song
Finding Favor – Slip on By
The song keeps me focused on what's important.
---