---
Holli Breslin shows
---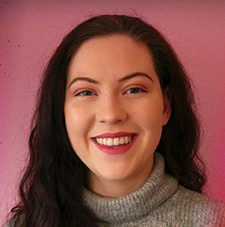 I've been working in Spirit Radio since 2015 when I was studying radio in college. It started as an intern role where I did research on guests, edited and uploaded podcasts and other bits and pieces around the station.
It was always my ambition to be a presenter and in 2017 I was given the opportunity to host Dóchas an Domhnach, which was shortly followed by the chance to take over the Saturday Breakfast Show.
Throughout my time working in media I've been an entertainment reporter, TV researcher and presenter. Broadcast media has been my passion since I was a child so I was eager to start working in the industry as quickly as I could after school!
Fun Facts:
–               I have two Polish Bantam chickens, Lady and Dopey that are great pets and have even appeared on national television twice!
–               I completed the Wicklow Way during summer 2021 and would definitely encourage everyone to give it a go
Favourite Saying: 
When life gives you lemons, make lemonade! It's such a well-known and simple, encouraging saying but it's always in the back of my mind when something goes wrong.
Favourite Spirit Radio Song:
Lauren Daigle – Hold On To Me. I love that the lyrics of this song took on another meaning when the pandemic hit with everyone needing as much support as ever and people doing selfless acts to help others. It's such a beautiful song.
---