Richie Gardiner (Richie G) / Operations Support / Broadcaster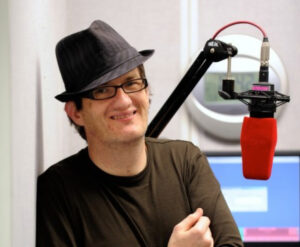 Richie has been working with young people since 1992, in a variety of contexts, and in 2000 graduated from Moorlands College with a BA Degree in Applied Theology/Youth Community. After which he worked as a Youth & Children's Pastor in Berkshire UK and a youth work trainer on a degree programme.
Richie has a passion for mission and seeing young people catch their God-given destiny in Christ. He first caught the radio bug in 1999 when he joined Hope FM for a 28 day broadcast in the summer doing a Saturday show. Since then he was involved with 16 – 25 year olds in Berkshire UK helping to facilitate a youth radio station, and also in 2006 another youth radio station involving young people on a short term mission with YWAM. He was also involved in hospital radio in Nuneaton, England for 3 years presenting request shows, breakfast show.
His passion today is to see young people released in an alive and active faith through, developing & pioneering Children's ministry in church and in mission.
Richie is available to speak at your church, parish or retreat and is a specialist and gifted communicator for youth & children with applying biblical truth.
---