---
Shay Harford shows
---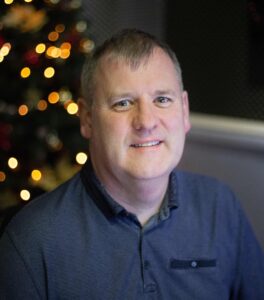 I have been interested in Radio since I was 10. I joined Spirit Radio in April 2016, presenting the Saturday Morning Breakfast show and now I present a show on Saturday Afternoons giving Sports Updates.
I grew up in Swords in North Co. Dublin and I am still living in Swords with my wife and two daughters.
I am interested in Genealogy and I am currently working on my family tree, which has proved to be exciting.
Fun Facts:
Throughout my life, I have raised Funds and Awareness for a number of Charities and my first ever time in an airplane was to complete a Parachute Jump for Charity.
This meant that my first time to Land in an airplane was about a year after I had first taken off in an airplane.
I also appeared in a Gospel musical, which told the story of St. Luke's Gospel. I played two parts in this Musical, The Good Samaritan and the Father of The Prodigal Son.
I share a Birthday with Tauren Wells and Russell Crowe.
My Favourite Bible Verse is Luke 15:
There are many Bible verses that have special meanings in my life, but I have always had a fondness for the Parables that Jesus told.
The Parables of The Lost Coin, The Lost Sheep and The Prodigal Son, remind me that in times of weakness, when my faith in God is tested, He is always there to accept me back and that He will welcome me back treat me as equally as someone who didn't stray. His Love for me is unconditional.
My Favourite Spirit Radio Song:
"Help Is On The Way (It May Be Midnight)" by TobyMac
This song reminds me that God will come to help me when I really need him. I'll never know when He will help me, but He will help me, when He knows that the time is right.
---